Website Uptime Monitoring
& Status Pages
Easy & trustworthy website uptime solution for website performance monitoring with customizable, fast, and free-to-use status pages!
Add custom domains

Forever free plan

Performance analytics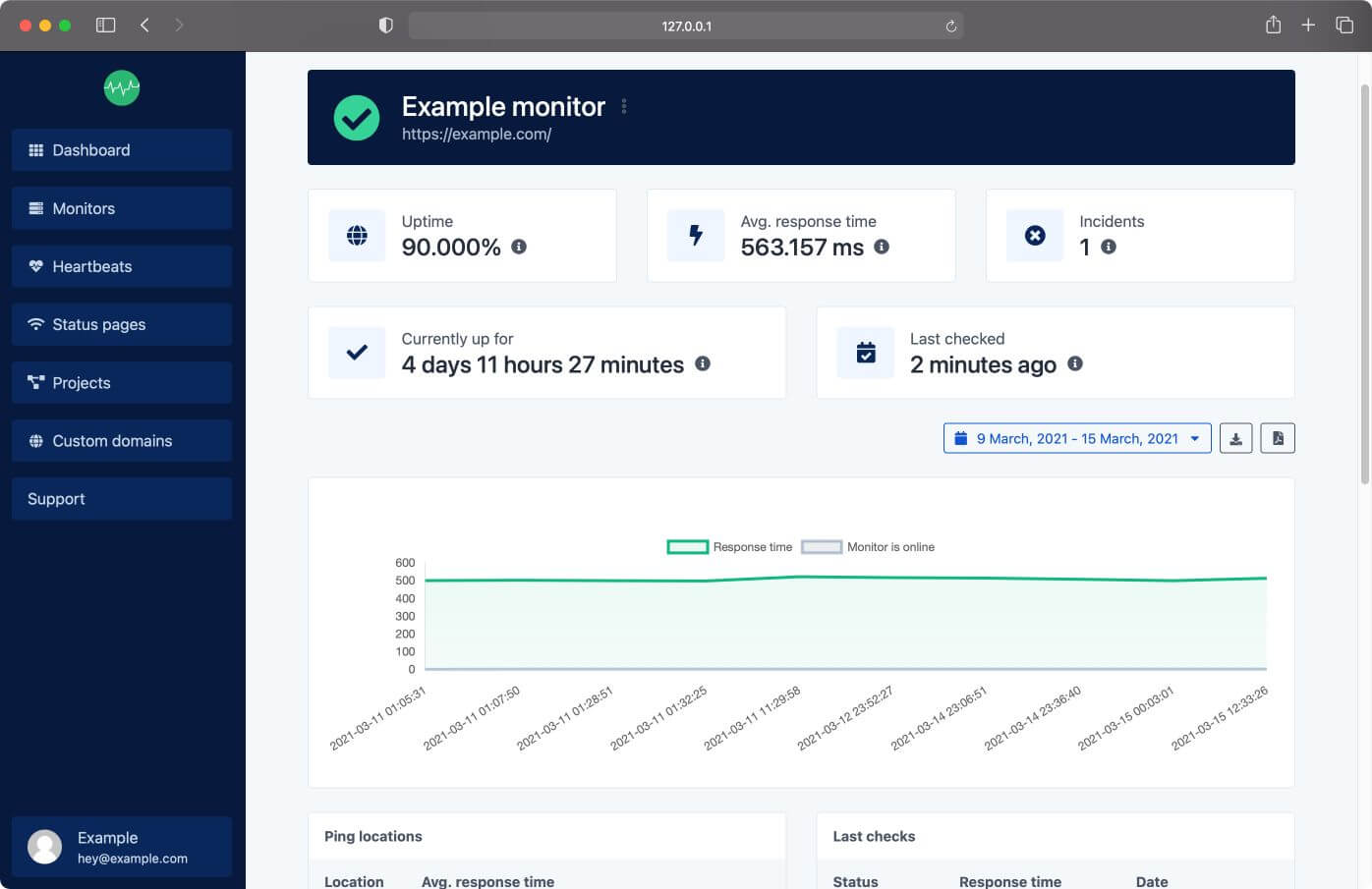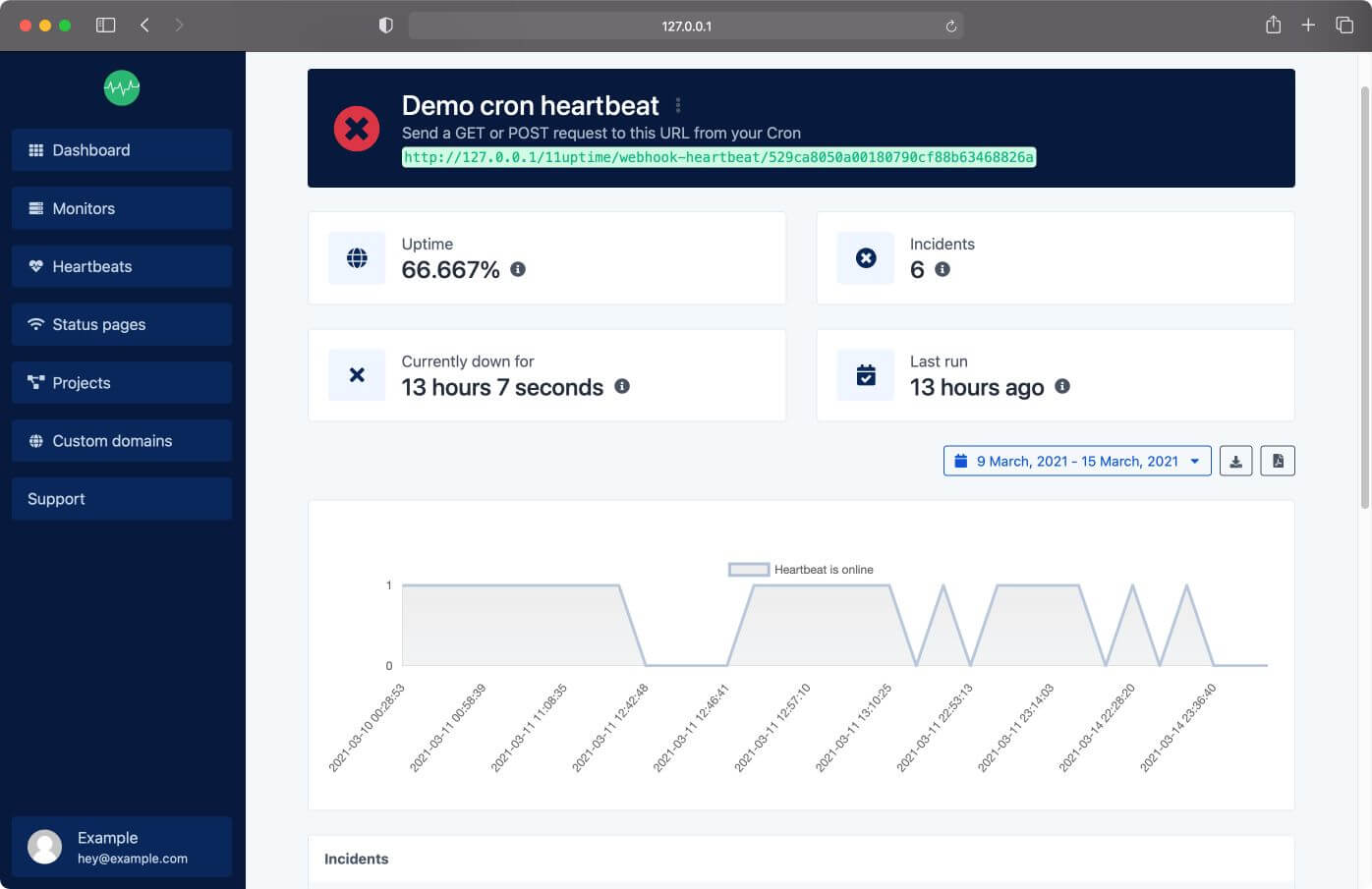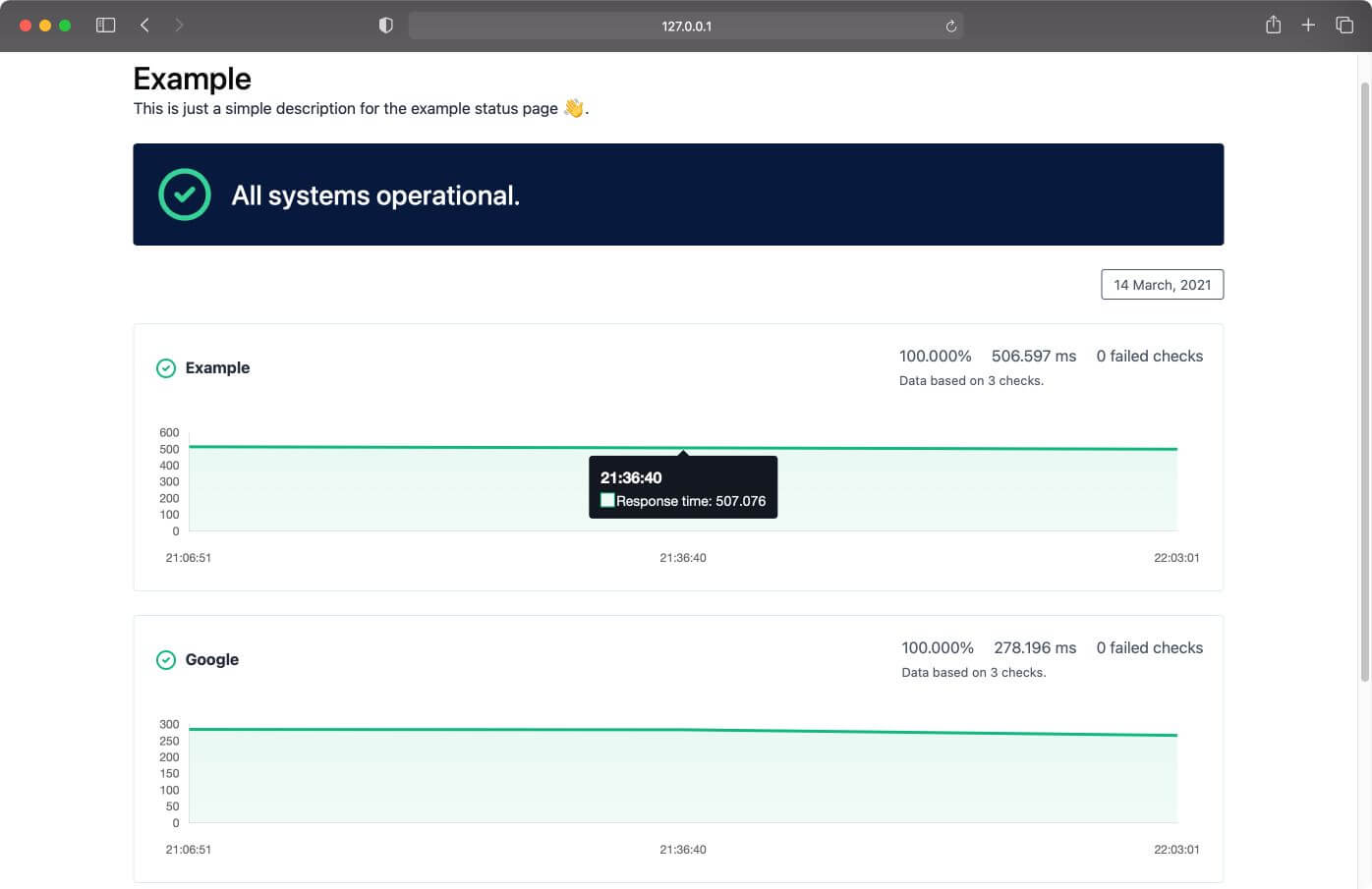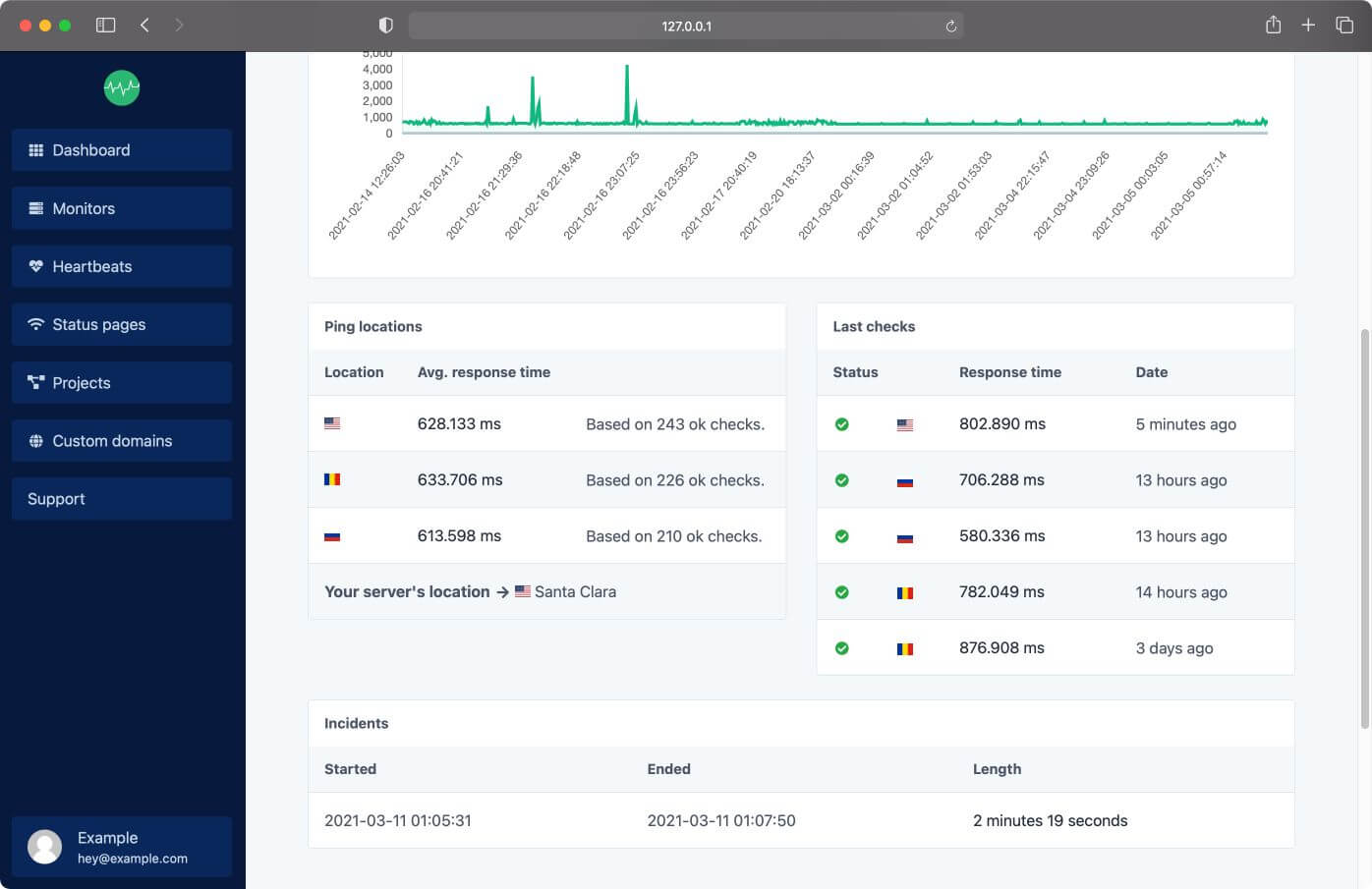 We made

1,758,259 checks

for a total of

201 monitors

. We also host

56 status pages

.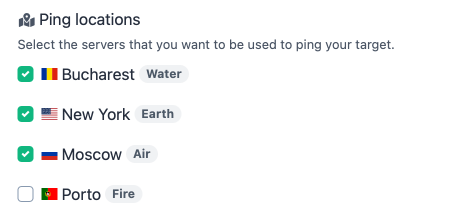 We check your monitors from multiple points around the world.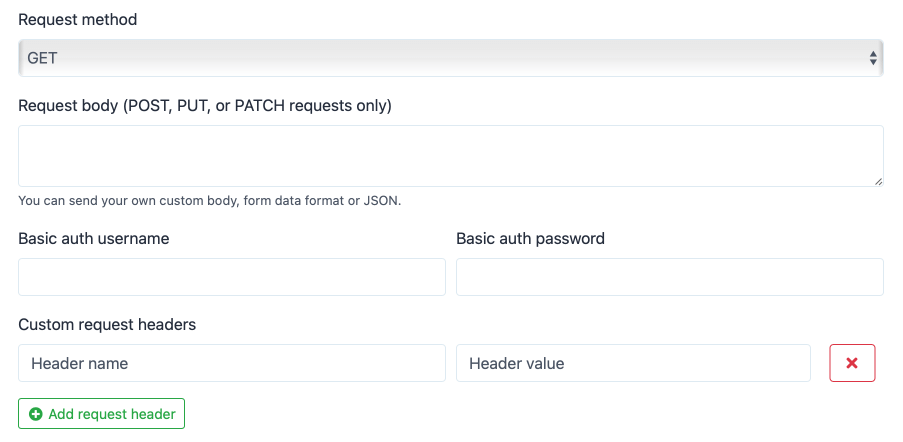 Request method, request body, custom request headers, and basic auth.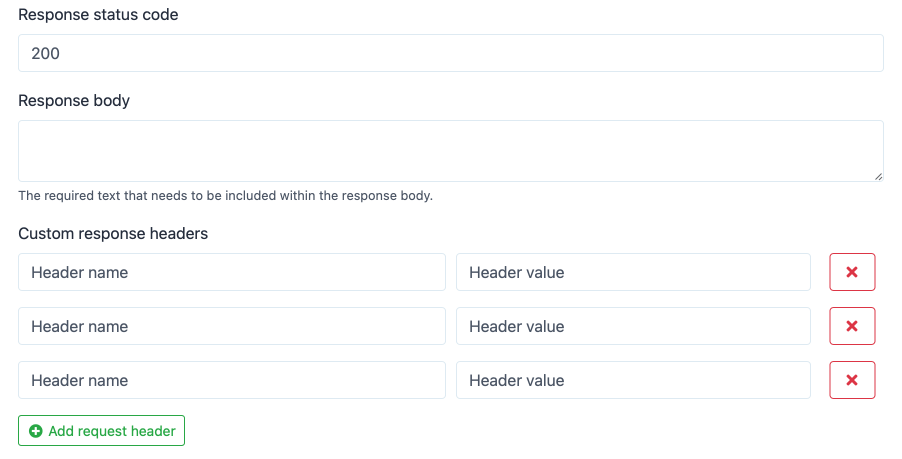 You can set & expect certain responses from your monitors.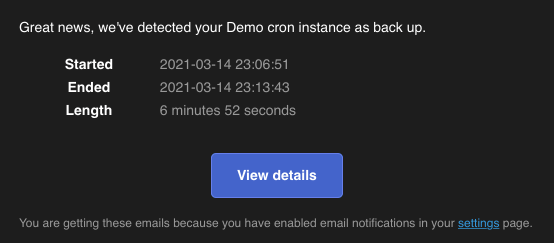 Get notified instantly when your tracked services go up or down.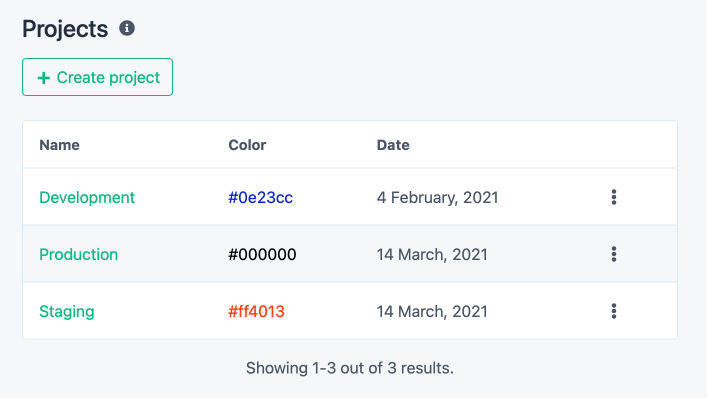 An effortless way to classify your managed resources and projects.

Use our predefined domains or connect your domain.
Ready to start?
Choose your plan
Multiple notification handlers
120 days status pages statistics retention
Block search engine indexing
Multiple notification handlers
365 days status pages statistics retention
Block search engine indexing
Multiple notification handlers
Unlimited days data retention
Unlimited days status pages statistics retention
Block search engine indexing
A High-Level Website Monitoring & Status Pages Solution
Websiteuptime.io is a website monitoring solution that you can use to improve your website's performance. Monitoring solutions and status pages can help you increase your website's user-friendliness and responsiveness.
With various features, Websiteuptime.io offers everything you would look for in a website performance monitoring tool. Analyzing website performance becomes much easier thanks to its simple user interface. That way, you can quickly increase your website's traffic and user-friendliness.
Straightforward and Easy to Use: Websiteuptime.io
Websiteuptime.io has an easy-to-use and straightforward user interface. In addition, it offers highly customizable solutions so that you can shape your experience according to your business needs.
Our main goal is to improve your performance by helping you to monitor your websites. However, fast and straightforward status page tool can also increase your productivity and performance.
You don't have to worry about dealing with tools with complex solutions; people who are complete beginners can master monitoring their website's performance with this website monitoring tool!
Make use of practical features with a low learning curve and enjoy your high-performing website!
Become a Master of Tracking Cron Jobs
Cron jobs are great for finalizing repetitive tasks. Using this element on your website, you can automate specific tasks on your server to boost your productivity.
With the cron jobs tracking feature of Websiteuptime.io, you can ensure they run smoothly and error-free. In the Heartbeats part, you can track the heartbeat of your website's cron jobs.
Checking the cron job's future performance is also possible, which can help you to get an insight into possible outcomes. Cron job monitoring accompanies you if you want to increase your website's overall performance.
Check Monitors from Multiple Locations
Website monitoring becomes much more practical with selecting servers and multiple locations. You can ping your target by choosing the servers you want to use.
We check your monitors from various locations all over the world so that you can get the most out of your monitoring activities.
In the ping locations section, choose a specific location, servers, ports, or websites to personalize your website performance monitoring experience.
Enrich Your Monitoring With Custom HTTP Requests & Responses
As a website uptime monitoring service that provides custom HTTP requests and custom HTTP responses, Websiteuptime.io offers a hassle-free experience to its users.
With custom HTTP requests, it is possible to request method, body, basic auth, and custom request headers. Apart from that, custom HTTP responses check the custom responses you set. After that, it displays what you expect from monitors, making your job quicker.
All you have to do is set custom HTTP responses and requests, and lean back! The website uptime monitoring service will do the rest for you to enrich your monitoring experience.
Keep Up With Up & Down Times
You can get instant notifications about your up and downtimes, making it easier to keep up with your website's performance. In addition, analyzing your downtimes with a website down checker can help you solve your website's issues and measure statistics.
The tool lets you know when and how long your monitors were unresponsive. By tracking website uptime and downtime, get an insight into your website properly.
Uptime checker tracks your websites, ports, and servers availability conveniently to save your valuable time.
Customizable Status Page Solution with Custom URLs
Analytics is included with status pages so you can see how many visitors you get. Also, you can monitor your status page's statistics in a transparent way. Thanks to that, your visitors can see your status pages and get an idea of your website.
On the other hand, status pages' retention numbers may differ according to pricing plans. Therefore, according to your business needs, you can choose from various data retention and status pages' statistics retention.
Customizing the URL of your status pages is also possible with the custom back-half URL feature of Websiteuptime.io.
Categorize Projects & Save Time
Websiteuptime.io allows you to categorize your projects and split them into different sections. By dividing your projects into various categories and organizing them, you can prevent possible chaos.
Manage your resources and classify them by their functions. That way, you can quickly get an insight into different projects and save a lot of time with this system.
Free or Paid: Select the Most Convenient Plan for Your Needs
Websiteuptime.io has three different pricing plans that offer various features. Pricing plans differ mainly according to the number of monitors, heartbeats, domain names, and status pages.
The number of status pages, statistics retention days, and data retention days differ in these plans as well.
The Free Plan: It offers solutions such as one monitor, heartbeat, domain name, and status page. It provides 120 days of data retention and status page statistics retention. Also, it includes custom-back half URL and password protection features.
The free plan can be great for small businesses that don't need comprehensive features and complete beginners to sign up to try out the product first.
The Basic Plan and The Expert Plan: They include blocking search engine indexing, API access, custom JS, custom CSS styling, and email reports features.
Paid plans come with various pricing options such as monthly, annual, and lifetime. You can choose from monthly, annual, and lifetime pricing options according to your business model and needs.
Website Monitoring Tool FAQ
1. Why should you use website performance monitoring tools?
Measuring your website performance is crucial and can properly be done with website performance monitoring tools. In addition, tracking when and why a website becomes unreachable is essential to avoid similar and possible errors.
Monitor uptime of websites, see downtimes, and include cron jobs tracking for your website to run smoothly!
2. What causes downtime?
There are many reasons for a website to become unresponsive. These are called downtimes and can be caused by software failures or malicious attacks. Downtimes and crashes might happen because of human errors or natural accidents as well.
3. Can you get instant email notifications about website performance?
Website availability monitor services can alarm you if there are unusual actions on your website. The tool lets you know that your service is up or down by sending instant email notifications.
4. Is it possible to use custom domains?
Yes! By using Websiteuptime.io as your uptime monitoring service, you can connect your own domains, or the tool can give you a predefined one.
Can you block your status pages' search engine indexing?
Yes, you can! By using the basic or the expert plan of WebsiteUptime.io, you can block your status pages' indexing to search engines such as Google.